For Nutritional Care for the Elderly
During the COVID-19 Epidemic
The relationship between immunity and diet has been well established in the literature for years, however, there is no specific nutrient or food, even a functional food, capable of improving the immune response alone or in combination with others. Therefore, no food product or nutritional supplement prevents or cures Covid-19 infection. Furthermore, despite the lower risk, well-nourished and healthy people can also develop advanced stages of the disease, including the result of death, indicating that several factors are related to the severity of Covid-19 infection.

In addition to the presence of frailty and chronic disease, obesity is also a risk factor for severe Covid-19 infection.
Some considerations due to the epidemic.
We know that the elderly feel less hunger than younger adults, and in this moment of social isolation, the absence of family members and the fear of contagion by Covid-19 are factors that, in addition to others, such as the poly comorbidities, drug side effects, reduction in hedonistic component of food, appetite condition worsens.

Furthermore, in the elderly infected with Covid-19, the immune response itself, the worsening of smell and the alteration of taste frequently associated with this infection and possible gastrointestinal changes such as abdominal pain, vomiting and diarrhea, will contribute to this person Elderly drastically reduce your dietary intake and worsen your nutritional condition.

Therefore, we are in a time of great attention to the food and nutrition of the elderly since the risk of malnutrition is very high.
Decision tree for nutritional behavior in institutionalized elderly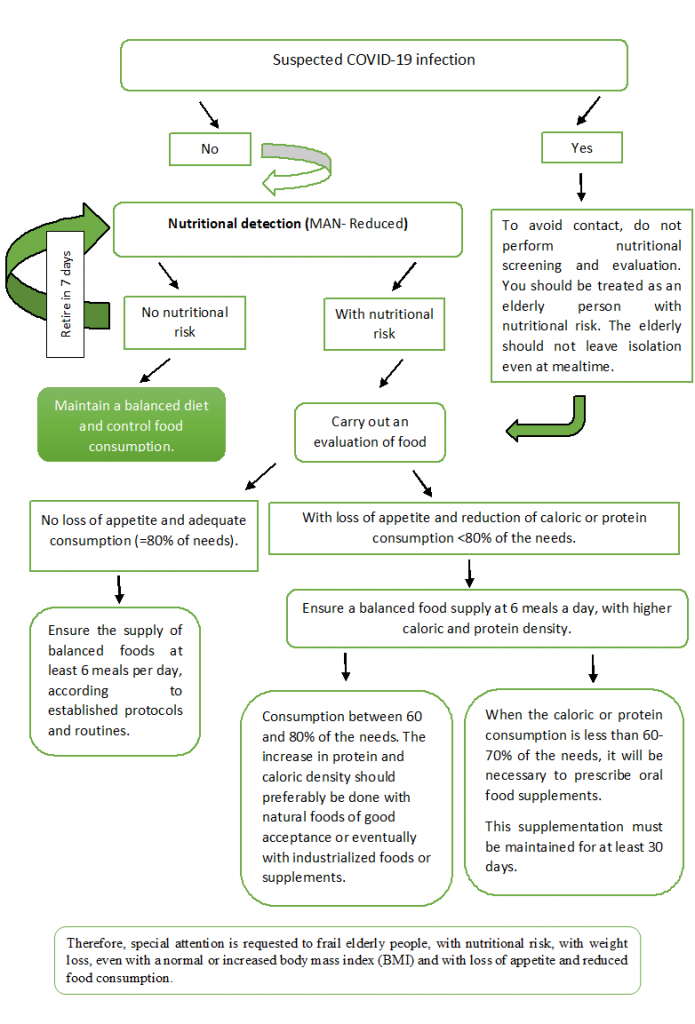 Relevant problems in nutritional care for the elderly with specific nutritional needs.
Increase protein supply to 1.5 g / kg of body weight, reaching 1.8 g / kg of body weight, except in the presence of chronic renal failure. Ideally, distribute the proteins throughout the day, avoiding a maximum supply at lunch. So, if dinner is a soup, the amount of meat or chicken in this soup should be at least 50-60 grams per person.

Offer a minimum of 250 grams per day of fruits and vegetables. In the elderly, especially the frail, this amount will not affect the ability to consume other essential foods and will contribute to the supply of micronutrients and fibers.

Ensure a good supply of fluids and fibers, as constipation worsens the condition of anorexia. When diet is not enough to control constipation, evaluate the possibility of a pharmacological intervention with the ILPI geriatrician.

Offer at least 2.0 liters of fluids or 30 ml / kg of body weight per day, except in the presence of a medical indication. These liquids include water, milk, natural juices and preferably aromatic teas.

Maintain sun exposure in the elderly without suspected Covid-19 infection, respecting the distance of 1.5 meters between people
When choosing an industrialized food supplement, prioritize those that contain high calorie and protein density associated with a good supply of micronutrients. Also note the quality of the protein.

Beware of older people with lactose intolerance. Some industrialized supplements contain milk in their composition. In semi-artisan supplements, milk with reduced lactose content may be an option, despite increasing the cost of the product.

Servings suggested by manufacturers are often bulky for a single meal, especially for the elderly with loss of appetite. In this case, it is suggested to distribute the portion throughout the day, so that there is no waste and, if necessary, offer it on more occasions. Flavorless powder supplements, in addition to the usual diet, are also an excellent option in this case.

Food supplements cannot replace meals but complement meals. Meal replacement is allowed only if it has very low nutritional value and the supplement will help improve nutrient supply.
Academy of Nutrition and Dietetics. Eat Right. Concerns Regarding COVID-19. Disponível em
https://www.eatright.org/coronavirus. Acessado em 27 de março de 2020.
American Society of Nutrition. Making Health and Nutrition a Priority During the Coronavirus (COVID-19) Pandemic. Disponível em https://nutrition.org/making-health-and-nutrition-a-priority-during-the-coronavirus-covid-19-pandemic/. Acessado em 26 de março de 2020.
Bauer J, Biolo G, Cederholm T, et al. Evidence-based recommendations for optimal dietary protein intake in older people: a position paper from the PROT-AGE Study Group. J Am Med Dir Assoc. 2013 Aug;14(8):542-59. doi.org/10.1016/j.jamda.2013.05.021
Bollwein J, Diekmann R, Kaiser MJ, Bauer JM, Uter W, Sieber CC, Volkert D. Distribution but not amount of protein intake is associated with frailty: a cross-sectional investigation in the region of Nürnberg. Nutr J. 2013; 12:109. https://doi.org/10.1186/1475-2891-12-109
Di Francesco V, Fantin F, Omizzolo F, Residori L, Bissoli L, Bosello O, et al. The anorexia of aging. Dig Dis 2007; 25:129–137.
García-Esquinas E, Rahi B, Peres K, Colpo M, Dartigues JF, Bandinelli S, Feart C, Rodríguez-Artalejo F. Consumption of fruit and vegetables and risk of frailty: a dose-response analysis of 3 prospective cohorts of community-dwelling older adults. Am J Clin Nutr 2016; 104:132–42
Harvard TH Chan. School of Public Health. Food safety, nutrition, and wellness during COVID-19. Disponível em https://www.hsph.harvard.edu/nutritionsource/2020/03/25/food-safety-nutrition-and-wellness-during-covid-19/. Acessado em 26 de março de 2020.
Kondrup J, Allison SP, Vellas B, Plauth M. ESPEN Guidelines for nutrition screening 2002. Clinical Nutrition. 2003; 22 (4): 415–21.
Shi Y, Wang Y, Shao C, Huang J, Gan J, Huang X et al. COVID-19 infection: the perspectives on immune responses. Cell Death Differ. 2020 Mar 23. doi: 10.1038/s41418-020-0530-3.